The Acquisition Team has seen increased demand from the 18-35-year-old demographic, which we believe to stem from a desire for a cheaper alternative to Tinder.
Seggz, our in-house 'hook-up' app, was exclusively created for 18-35-year-olds and is part of various strategies that our team are testing to make this demographic more profitable.
Our voyage to success includes a twofold digital strategy that combines the precision of Google Ads with the allure of Social advertising. Currently, Seggz boasts a Cost Per Acquisition (CPA) well under that of the 36+ markets.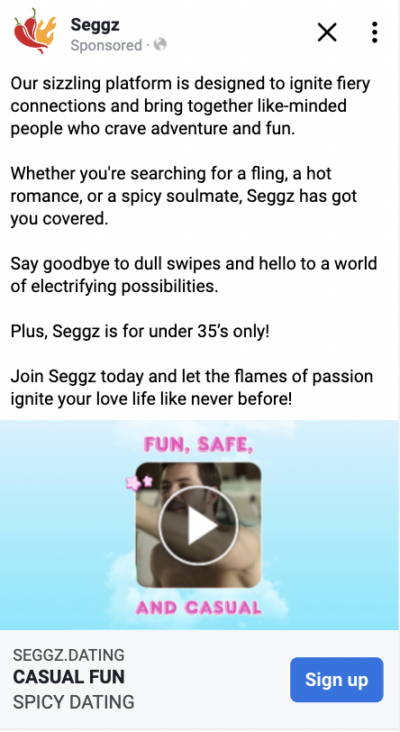 From Polyamory to Seggz: A Journey of Success
Building upon the triumphs of our first foray into adult content with Polyamory, we've harnessed invaluable insights to refine and amplify our approach.
With Seggz, we're taking what we've learned, combining it with fresh ideas, and pushing the boundaries of the Meta policy, to allow us to confidently instruct on social advertising for adult brands, as well as improving our metrics consistently.
A Higher Upgrade Rate
As we proceed to navigate our path through unfamiliar territory, our journey so far has seen remarkable growth and success within the realm of Social advertising.
Our efforts have sparked not only interest but action, with a higher upgrade rate than that achieved through Google Ads currently. Pushing adult brands onto social, and testing the boundaries of what we can and cannot do, is something we will continue to do across our brand suite.
By striking a suitable balance between offering a platform and experience that caters to this younger demographic, alongside advertising that deeply connects, the result is anticipated to be favourable.
We look forward to passing on our learnings to HubStar partners as insights are gained and enhancements are put into effect.
Contact our team here to continue the conversation on social advertising, casual brands and the 18-35 year old demographic.