October proved to be another strong month for new business, with daily registrations increasing by 15% month on month across our partner accounts. The continuous efforts to streamline our sign up process and improve traffic quality has resulted in daily verified registrations also increasing by an impressive 13% month on month.
We are seeing strong opportunities opening up in New Zealand and Canada which are in our top 5 networks in terms of initial revenue. New Zealand experienced significant growth, with a territory increase of 67% month on month!
Get in touch to discuss your strategy and how we can support your revenue growth!
Acquisition Updates
The acquisition team have been exploring potential new niches for our partners. As a result we are pleased to report an exciting new opportunity – Cosplay/Gamer/Geek niche.
This niche serves 3 different interests with 3 sets of keywords and targeting options all in one relevant niche. The results have driven an upgrade rate of over 5% in USA, Canada and the UK. This niche has also been successful in driving 12% more female sign ups than any other niche. We recommend trying the niche with dedicated sites for each interest to maximise your revenue in this niche. Speak to your account manager to get more details.
We have also been working with the bisexual niche and have shown success through the testing of male and female landers. The landers are optimised through keywords, imagery and web copy. This test has shown that in the UK: 70%, Canada: 77.5% and Australia:92% of registrations are on the male optimised lander. Using this insight, we have been targeting the gay male market through bisexual landers. We have seen success with this approach achieving an upgrade rate of 6.2%.
Please get in touch to discuss growth opportunities in new niches or to request support from our Acquisition Team.
Partner Portal Updates
The In-house offers section of our Partner Portal has been updated and given a new look.
We have a portfolio of high performing own brand offers which covers our most successful niches and territories. These are available to view within the partner portal home page and are perfect for those who don't wish to create their own dating brand. Our own brand offers are available for you to monetise your traffic with on a rev share or CPL basis.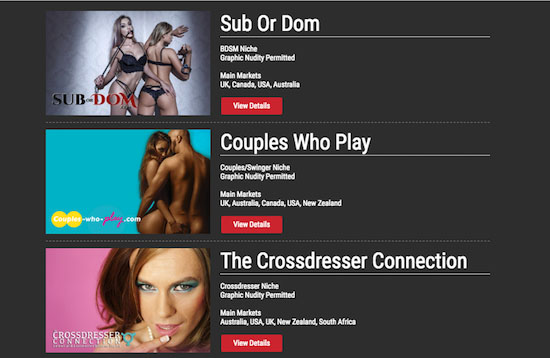 These are just a few of the own brand offers within our BDSM, Swinger and Crossdresser Niches, available for partners to scroll through and select.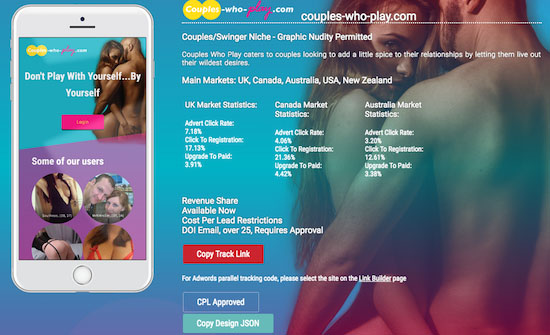 Partners can now easily view more details on each offer, including market statistics such as Advert Click Rate, Click to Registration and Upgrade to Paid %. We also provide a mobile view of each offer which has been optimised with a mobile first design.
It's quick and easy to copy the tracking link for each offer, for Adwords parallel tracking we have provided quick access to our Link Builder page where the tracking code can be found. You can select the 'Copy Design JSON' button if our In-house landers have inspired you to create your own site. Colours, fonts and styling can be copied and adapted to suit your own brand.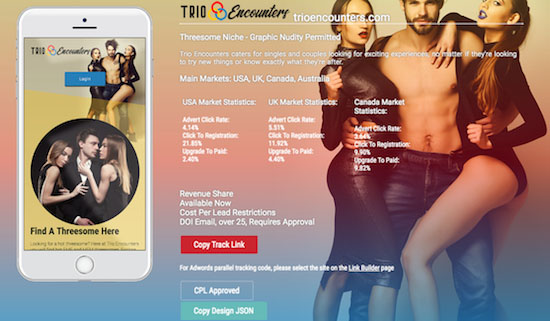 If you would like more details on our In-house offers or need further guidance then please reach out to your account manager or contact info@hubstars.com where our team will be happy to assist you.