We are proud to share that our partners and Acquisition Team finished January on a high, with an impressive increase of +16.2% in new revenue vs December!
Registrations increased by +11% across the board, with partners broadening their portfolios into new mainstream niches from our Affinity platform. There was also a focus on ramping up existing campaigns in order to take advantage of the increased user activity that January brings.
Taking a closer look at our mainstream platform results, the USA market seen an uplift of +19% in registrations and +26% in new revenue month on month!
Our casual platform has experienced some fantastic performance results too throughout January, check out our top geo new revenue increases below: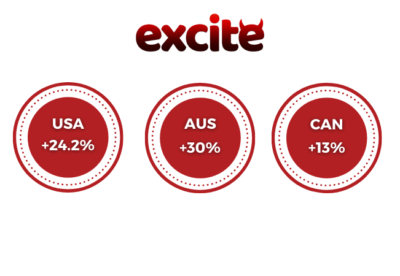 Insight into end user behaviour during lockdown 3.0
2021 is well underway and we are still under various levels of restrictions throughout the World, with the UK being in complete lockdown since late December. A new year brings new hope and for some that means new hope to find a partner or friend online.
As a business that digitally brings people together, we are thrilled at the masses of end users who are making use of our facilities whilst staying safe at home. Our online networks have blossomed into even more vibrant places to be and we will continue to optimise and further improve these spaces as the year goes on.
Increased member activity levels means it's good news for our partners too…
Check out these impressive results from January 2021 vs January 2020
+13% Increase in Registrations
+49% Uplift in New Revenue
+38% increase in conversion rates (SOI to Upgrade) across the board
Bringing people together online is what we do. This year more than ever we will be working hard to facilitate this connection with every action we take to ensure happy end users and the optimal functioning of our partner's traffic potential.
Get in touch for more details here.